ACCESS:
There are two light microscopes available for use by OSU investigators, the Zeiss Axioskop and the Olympus Stereo Microscope. Contact us to request training and please include a detailed description of the type of imaging you require including brightfield or fluorescence and whether use of the Nuance camera is desired. Training is performed on an individual basis and instrument rates and technical assistance fees apply during individual instruction. Please allow at least 24 hours notice when requesting initial training.
RATES:
Please refer to our rates page.
INFORMATION: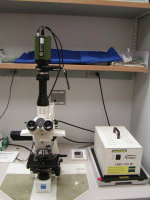 The Zeiss Axioskop system is capable of capturing brightfield, darkfield, phase contrast, and fluorescence images. Standard digital images are generated with a QICLICK-F-M-12 CCD camera (QImaging) equipped with an RGB liquid crystal color filter module for capturing color images. Brightfield capability is important for capturing images of samples that are either unstained or stained with histological dyes (i.e. H&E, trichrome, toluidine blue, giemsa and more). An advantage of widefield fluorescence imaging on this system is improvement in the brightness of the image in the event that label fluorescence is extremely dim. The Nuance multispectral imaging camera can also be used with this system. Please visit the Nuance page for more information.

The Axioskop is equipped with the following objective lenses.
4X/0.10 NA Achroplan
10X/0.25 NA Achroplan
20X/0.45 NA Achroplan
40X/0.65 NA Achroplan
63X/1.40 NA Plan-Apochromat
100X/1.40 NA Plan-Apochromat
The fluorescence filter magazine contains filter sets for any dyes with similar excitation/emission properties as these: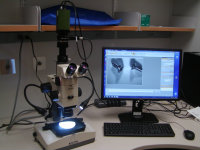 The Olympus SZH Zoom Stereo Microscope System is available for low magnification imaging and has a transmitted light illumination base with brightfied and darkfield illumination modes. An auxiliary LED light source for reflected light is also available. This microscope is equipped with 0.5X and 1x lenses and offers a large zoom range for increased magnification. Both the QIClick and the Nuance cameras can be used for color image capture on this system.
SAMPLE IMAGES:
The CMIF has capabilities for producing light level microscopic digital images. The following sample images were produced using the light microscope systems.
Kidney tissue section-trichrome stain
Phase contrastof buccal smear
Fluorescence images of pollen
Fluorescence image of cells in culture